CTruk to Showcase Two Vessels at Seawork

CTruk will have two vessels on the Seawork pontoons this year.
CWind Endurance, a 20m Small Waterplane Area Twin Hull (SWATH) OWSV for Dungeness-based Technical Marine Support and CWind, is due for delivery in March 2014 and it is planned that she will grace the pontoon at Seawork later in the year.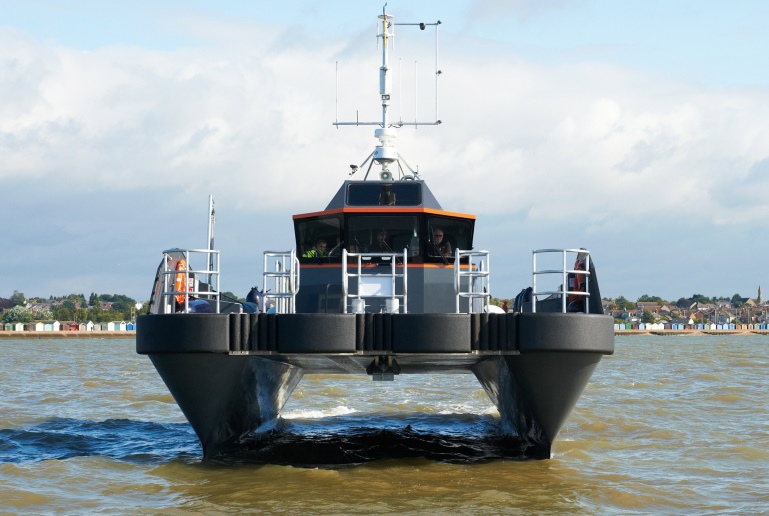 CTruk has utilised the wealth of performance statistics and operational feedback gained during its composite SWATH workboat CWind Astute's first year at sea to fine tune the design for this build. The use of waterjets is the main difference on the new SWATH workboat. Rolls-Royce Kamewa FF41 jets are expected to increase manoeuvrability and responsiveness to sea conditions when approaching the turbine transition piece.
A revised engine and transmission layout will optimise the longitudinal centre of gravity (LCG), reducing ballast volumes and lightening the vessel. Coupled with the weight savings already gained from composite construction, this will serve to further enhance the fuel efficiency for which CTruk's innovative workboats are renowned.
The refined hull shape also gives extra displacement; the ability to reduce draft will allow the craft to access shallow harbours and beach safely.
Stuart Richardson, owner of Technical Marine Support, currently skippers a CTruk 20T.
CTruk THOR
With a growing military presence at Seawork, CTruk has chosen the event as a showcase platform for the first-in-class CTruk THOR (Twin Hulled Offshore Raider), Force Protection Craft variant, which launched at DSEI in September 2013.
This 11m composite twin-hull design has been put through its paces during a series of promotional deployments to demonstrate the advantages of this innovative composite design for military and maritime security roles.
The craft has been trialled in a range of sea and weather conditions. Twin hulled THOR gives a superior ride in quartering, beam and following seas, confirming the value of the stable catamaran platform which is a key advantage for troops and weapon systems.
Both these innovative composite craft will be on the pontoon at Seawork 2014 (berths V10 and V25). The CTruk team will exhibit on the same stand as previous years (B9).
[mappress]
Source: Seawork, March 4, 2014