Local MP Visits CTruk in London, UK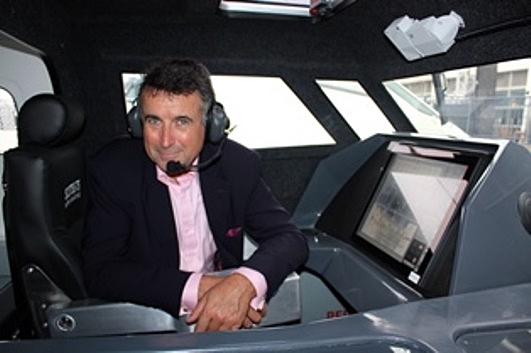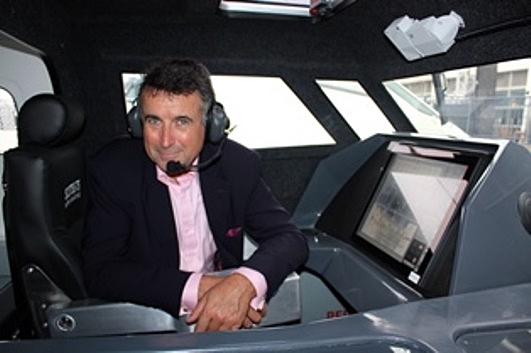 Bernard Jenkin, Member of Parliament for Harwich and North Essex, visited Brightlingsea-based designer and builder of multi-purpose composite marine craft, CTruk, in London last week as the defence and security event DSEI drew to a close. 
CTruk launched its proof-of-concept Force Protection Craft, THOR – Twin Hulled Offshore Raider, at the show. After meeting the company's Military & Security Division team Mr Jenkin was introduced to THOR, still on the Thames having taken part in the daily waterborne displays at the event.
He later expressed his pleasure in seeing CTruk develop: "CTruk is an innovative business which is already established in the offshore wind power industry, now seeking new markets.  Offshore wind companies need a practical, manoeuvrable craft which is quick and can operate in shallow water.  Defence forces around the world have a similar requirement.  These are hard markets to penetrate – but we might soon see boats built in Brightlingsea once again part of the Royal Navy!  There are also real export opportunities here.  It is wonderful that Brightlingsea should enjoy this spin-off from the wind power industry, providing local jobs and training."
CTruk was formed in 2010 and has gained a proven track-record for the design and build of offshore wind support vessels, which also have numerous applications in the military and security and disaster relief sectors. The company prides itself on a fresh approach to design and build, with patent-applied vessel features and the use of a cutting-edge vacuum infusion process at its Brightlingsea shipyard to build to the highest standards and save up to 40% on weight. The result is light, composite vessels that are both tough and extremely fuel-efficient.
THOR is a composite, 11m proof-of-concept vessel, designed to fulfil a number of roles including force protection, casualty extraction, carrying and deploying a pre-landing force, riverine patrol, protection of harbours and offshore installations, unmanned surface vessel operations (for protection and mine countermeasures) and disaster relief.  THOR incorporates a range of high-tech equipment provided through the CTruk Collaborative Amphibious Project (CAP), a consortium of companies that have joined forces to punch above their weight in a market dominated by larger corporations.
Ben Simpson, CTruk Managing Director, commented: "It is a great honour to receive Bernard Jenkin's interest and support. The formation and development of CTruk has been an exciting journey so far, made possible through everyone's commitment, enthusiasm and belief in the merits of our innovative product range." 
[mappress]
Press release, September 19, 2013; Image: CTruk