SMD Presented with Queen's Award for Enterprise (UK)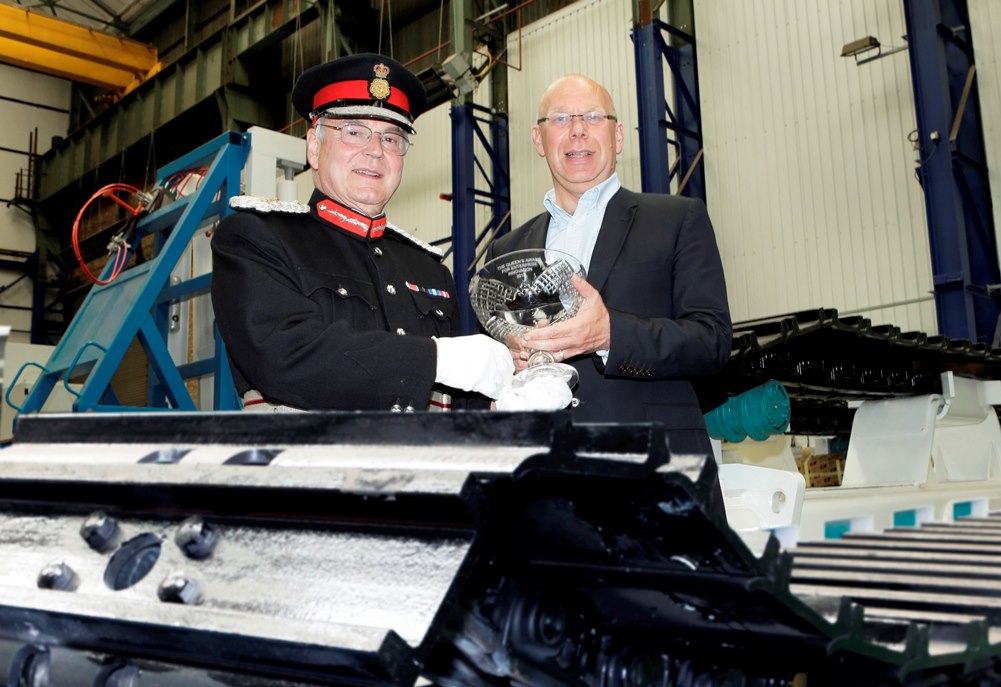 SMD has been formally presented with a Queen's Award for Enterprise by the Lord-Lieutenant of Tyne and Wear.
The Lord-Lieutenant, Mr Nigel Sherlock, presented the Award in the Innovation Category, as part of a visit to SMD's head office and manufacturing facilities in Wallsend, North East England.
This is the third Queen's Award the company has won in the last three years. In 2011, SMD was presented with the Queen's Award for Innovation for its work class ROVs, and in 2012 the company won a Queens Award for International Trade, recognizing their success in global markets.
SMD's latest Queen's Award recognises innovations that the company has made to its subsea trenching and ploughing equipment, to create a suite of technology suited to Offshore Wind and Offshore Power cable installation.
Originally developed for subsea cable installation for the telecommunications industry, SMD spent five years developing its technology to create three product ranges applicable to different soil conditions and vessel requirements.
The company is one of the world's leading manufacturers of remote invention equipment, which is operated in hazardous environments across the globe. Among the advances in this field has been the creation of the QTrencher range. SMD has worked closely with Reef Subsea Power and Umbilical Ltd to develop the QTrencher 1000 (QT 1000).
The QT1000 is a free-flying ROV jet trencher, which can operate in water depths up to 2000 metres and in a variety of soil conditions.
In addition, SMD's first QTrencher 1400 (QT 1400) has been developed for Fugro Salt Subsea. This model has the ability to support post-lay burial of power cables and flow lines and is able to operate in hard clay environments using high pressure jetting systems.
 Andrew Hodgson, Chief Executive of SMD, said "Securing a hat-trick of consecutive Queen's Awards is testament to the innovative engineering talent we have at SMD who are consistently challenging themselves to develop new and more effective solutions that meet the requirements of the industries we serve. Our dedication to continual innovation has enabled SMD to become a world leader in subsea intervention technology. This latest Queen's Award reflects our achievements in this field and we are very proud to be again recognised by these very prestigious and highly-regarded awards."
[mappress]
Press release, June 28, 2013; Image: smd