USA: BOEM Announces First Ever Offshore Wind Lease Sales in Two Areas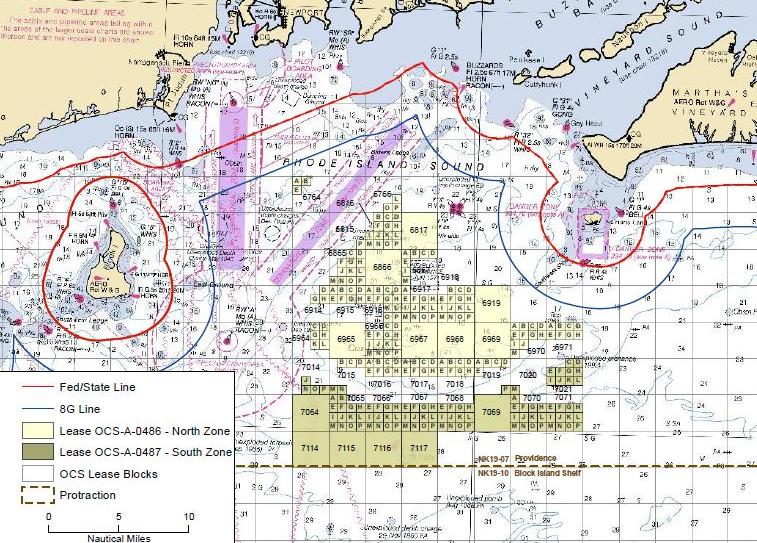 As part of the Obama Administration's all-of-the-above strategy to continue to expand domestic energy production, Secretary of the Interior Ken Salazar, Deputy Secretary David J. Hayes and Bureau of Ocean Energy Management (BOEM) Director Tommy P. Beaudreau have announced competitive lease sales for renewable energy development in two wind energy areas (WEAs) in federal waters.
"Wind energy along the Atlantic holds enormous potential, and today we are moving closer to tapping into this massive domestic energy resource to create jobs, increase our energy security and strengthen our nation's competitiveness in this new energy frontier," said Salazar. "We are implementing the President's all-of-the-above strategy by focusing on developing areas with the lowest potential conflicts and the greatest expected gains. As we experience record domestic oil and gas development, we are moving forward at the same time with efforts to ensure that America continues to lead the world at developing the energy of the future."
The lease sales, which will be held next year, will be the first-ever competitive sales on the Outer Continental Shelf (OCS) for wind energy, and are major milestones in the Administration's "Smart from the Start" wind energy program to facilitate the siting, leasing and construction of new projects. These lease sales cover two WEAs along the Atlantic coast that have high wind resource potential.
This announcement advances steps taken by the Obama Administration to develop the full range of energy resources available on the Outer Continental Shelf. Western Gulf of Mexico Lease Sale 229 was held on November 28, 2012, in New Orleans, and built on two major Gulf of Mexico lease sales in the past year – a 21 million acre sale held last December and a 39 million acre sale held in June.
These lease sales support the Administration's goal of continuing to increase domestic oil and gas production, which has grown each year the President has been in office. Domestic oil production last year was higher than any time in nearly a decade and natural gas production is at its highest level ever. Foreign oil imports now account for less than 50 percent of the oil consumed in America – the lowest level since 1995.
"Holding competitive lease sales on the wind-rich east coast is ushering in a new chapter in America's development of renewable energy," said Deputy Secretary Hayes. "By working closely with Rhode Island and the other states to identify the best areas for offshore wind farms, winning bidders will have a clear pathway to successfully harness our world-class offshore wind resource."
BOEM announced the Proposed Sale Notices on November 30 to offer 277,550 acres in two "Wind Energy Areas" – one area offshore Virginia and the other area of mutual interest offshore Massachusetts and Rhode Island. The areas proposed for leasing are expected to be able to support more than 4,000 megawatts (MW) of wind generation – enough electricity to power an estimated 1.4 million homes.
"Today's announcement follows many months of hard work, stakeholder engagement and extensive collaboration with our federal, tribal, state and local government partners," said Beaudreau. "We are realizing the promise of our 'Smart from the Start' strategy, which has involved identifying the areas along the Atlantic Coast best suited for commercial wind energy development, while working with key stakeholders to address potential conflicts with other uses, including commercial fishing and vessel traffic, early in the process."
The area of mutual interest proposed for leasing offshore Rhode Island and Massachusetts covers approximately 164,750 acres and is located about 9.2 nautical miles south of the Rhode Island coastline. The area will be auctioned as two leases, referred to as the North Zone and South Zone. The North Zone lease will consist of about 97,500 acres and has the capacity to support more than 1,000 MW of wind generation. The South Zone lease will consist of about 67,250 acres and is capable of supporting a project of between 350 – 1,000 MW. Together, these zones could support enough electricity to power 700,000 homes.
The proposed lease area offshore Virginia will be auctioned as a single lease and totals about 112,800 acres about 23.5 nautical miles offshore southern Virginia. It is expected to support more than 2,000 MW of wind generation – also enough electricity to power 700,000 homes.
The Proposed Sale Notices will be published in the Federal Register on December 3 and are already available in the electronic reading room. The notices provide detailed information about the areas available for leasing, proposed lease provisions and conditions, auction details, the lease form, criteria for evaluating competing bids, award procedures, appeal procedures and lease execution.
BOEM identified the WEAs in conjunction with renewable energy task forces, which include federal, state, local and tribal government partners. BOEM has conducted environmental assessments to analyze the potential effects associated with issuing leases in these WEAs. In addition, BOEM will conduct comprehensive site-specific National Environmental Policy Act review, including opportunities for public comment, for the construction of any proposed wind power facility.
The 60-day comment period for the Notices ends on February 1, 2013. Comments received or postmarked by that date will be made available to the public and considered prior to the publication of the Final Sale Notices. BOEM will host a public seminar for each WEA during the comment period to introduce potential stakeholders to the auction format, explain the auction rules and demonstrate the auction process through meaningful examples.
The time and day of the lease sale auctions will be published via Final Sale Notices in the Federal Register, and will be held no earlier than 30 days after their publication date. BOEM expects to publish the Final Sale Notices and conduct the auctions in 2013.
[mappress]
Press release, December 2, 2012; Image: BOEM