British Minister Hoban Visits Saab Seaeye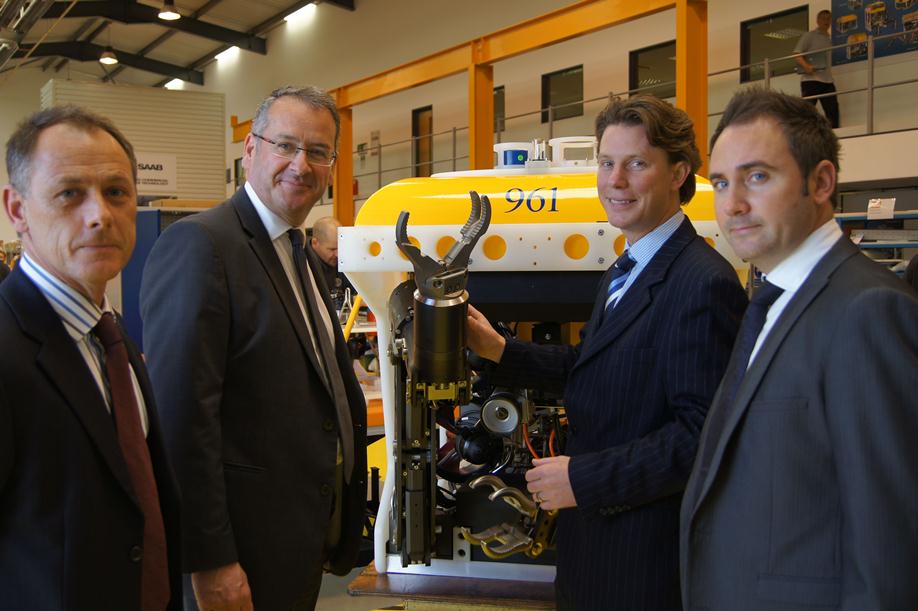 The Minister of State for Work and Pensions and Member of Parliament for Fareham, Mark Hoban, visited top ROV manufacturer, Saab Seaeye on Friday 12th October.
He met the new managing director, Jon Robertson, previously the company's engineering director, along with the other key members of the management team: sales director, Matt Bates and operations director Mark Exeter.
It was Mark Hoban's third visit to the company whose factory he opened in 2008.
During this visit he saw how substantial investment in production systems has created a leaner manufacturing process that has speeded throughput of customer orders and improved quality and reliability across the company's world-leading range of ROV systems.
He learnt of ground-breaking innovations that have kept the company in the forefront of technological developments in underwater vehicle systems.
Highlighting the very latest breakthrough, Jon Robertson explained how Saab Seaeye engineers have overcome the complex problems of blending together the technologies of defence and commercial systems to create a unique concept in underwater vehicle design that will open up new operational possibilities for both undersea and tunnel operators.
Mark Hoban also heard that exports are at 80%, with sales reaching £25 million and the number of employees growing 23% since his last visit, leading him to conclude:
 "I'm very impressed to see how the company is going from strength to strength and how its efficiencies and cutting-edge technology have made it a world-leading business."
Before leaving the factory, Mark Hoban had a chance to see the latest ROV to come off the production line, the powerful Panther XT Plus, destined for the Singapore offshore oil and gas industry.
[mappress]
Press release, October 22, 2012; Image: balthazarinternational