Vestas will manufacture 99 out of the 114 V164 wind turbine blade sets for the Seagreen offshore wind project in the United Kingdom.
297 blades in total will be produced by Vestas in the UK for installation at the 1,075 Seagreen off the Angus coast by the end of 2022.
Production is currently underway for the Seagreen project at Vestas' blade factory and R&D centre on the Isle of Wight.
The turbine manufacturer recently revealed that its 1,000th offshore wind blade produced in the UK– an 80-metre V164 blade – which recently rolled out of the facility is destined for Seagreen.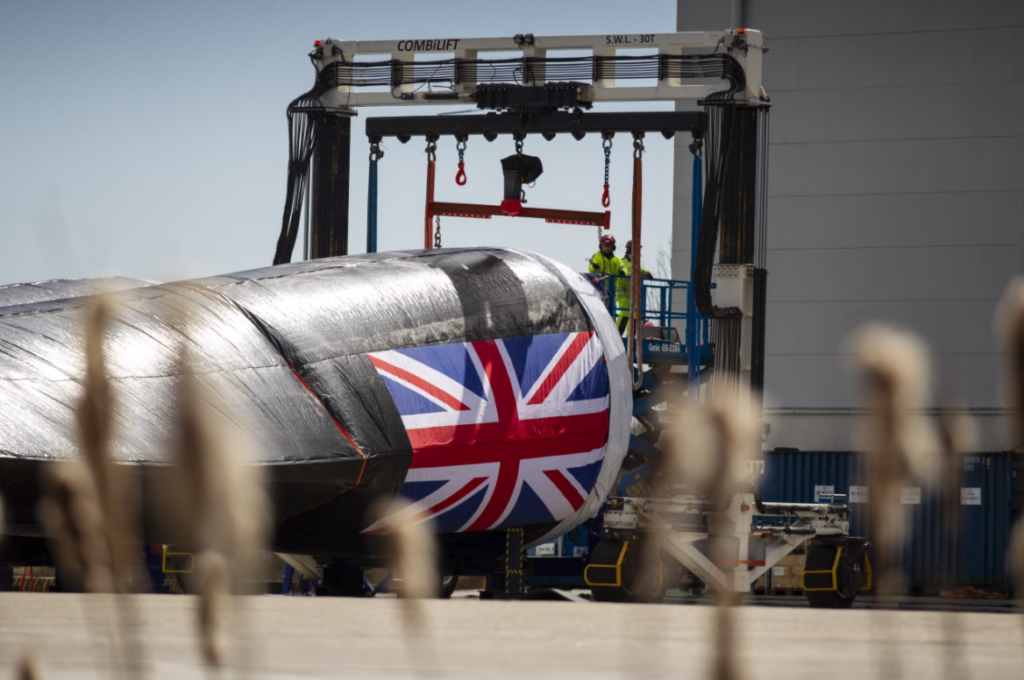 The V164 offshore wind blades are first produced at Vestas' facility in Newport on the Isle of Wight, then painted and finished at Vestas' painting and logistics facility – a decommissioned oil-fired power plant in Fawley, Hampshire.
The 1,075MW Seagreen project is currently under construction and is located 27 kilometres off the coast of Scotland in the North Sea's Firth of Forth. The wind farm will feature 114 V164-10 MW wind turbines supplied by Vestas.
The project is a GBP 3 billion joint venture project between TotalEnergies (51 per cent) and SSE Renewables (49 per cent).
SSE Renewables is leading the development and construction of the joint venture project, supported by TotalEnergies, and will operate Seagreen on completion.
"This announcement is yet another example of how SSE Renewables and our partners TotalEnergies are working together with our supply chain to support the green recovery and create tangible opportunities through our Seagreen project for people across the UK," Paul Cooley, Director of Capital Projects at SSE Renewables, said.
"The production in the Isle of Wight of turbine blades for Seagreen means that our construction activities on what will become Scotland's largest offshore wind farm is delivering a real green boost for UK jobs."
Seagreen will be Scotland's largest and deepest offshore wind farm when complete.
First power is expected by early 2022 with the offshore wind farm expected to enter commercial operation in 2022/23.
Olivier Terneaud, Vice President Offshore Wind at TotalEnergies, said: "TotalEnergies' ambition is to become the responsible energy major and work with society to reach net-zero emissions. In the UK we will achieve this ambition by investing in renewable energy projects and by delivering them in a way that maximises opportunities for the country's supply chain and workforce. Today's announcement is a great example of how we're working with our Seagreen partners to deliver on this ambition."
To service the UK offshore wind sector, Vestas has ramped up its staff to now employ over 1,500 in production, blade technology research and development, construction, service, and other professional staff across the UK.
"With nearly 90% of the Seagreen project's blades manufactured in the UK, we are delivering on our supply chain commitments to the UK," Tommy Rahbek Nielson, Chief Operating Officer of Vestas, said.
"That Scotland's largest offshore wind project will be powered by largely UK-produced blades is a testament to the blade manufacturing and technology expertise Vestas has built in the UK. Vestas is proud to be powering UK homes through UK knowhow."
The Seagreen project will be Scotland's largest renewable energy project once installed and will provide around 5,000 GWh annually of clean renewable energy, supplying the energy needs of around 1.6 million homes and saving around 2 million tonnes of carbon dioxide emissions annually.
John Hill, Project Director for Seagreen Offshore Wind Farm, said: "The news that the majority of the Vestas blades will be manufactured in the UK is great for Seagreen and the renewable energy industry as a whole. We're looking forward to working with Vestas to get the blades to site and to them becoming an integral part of Scotland's largest wind farm."
Photo: The 1,000th blade produced by Vestas in the UK. Source: Vestas