US Jumpstarts Offshore Wind, Targets 30 GW by 2030
The US has set a national target of 30 GW of installed offshore wind capacity by 2030 as a centerpiece of a newly introduced plan by the Biden Administration to jumpstart offshore wind energy and create tens of thousands of jobs in the sector over the next decade.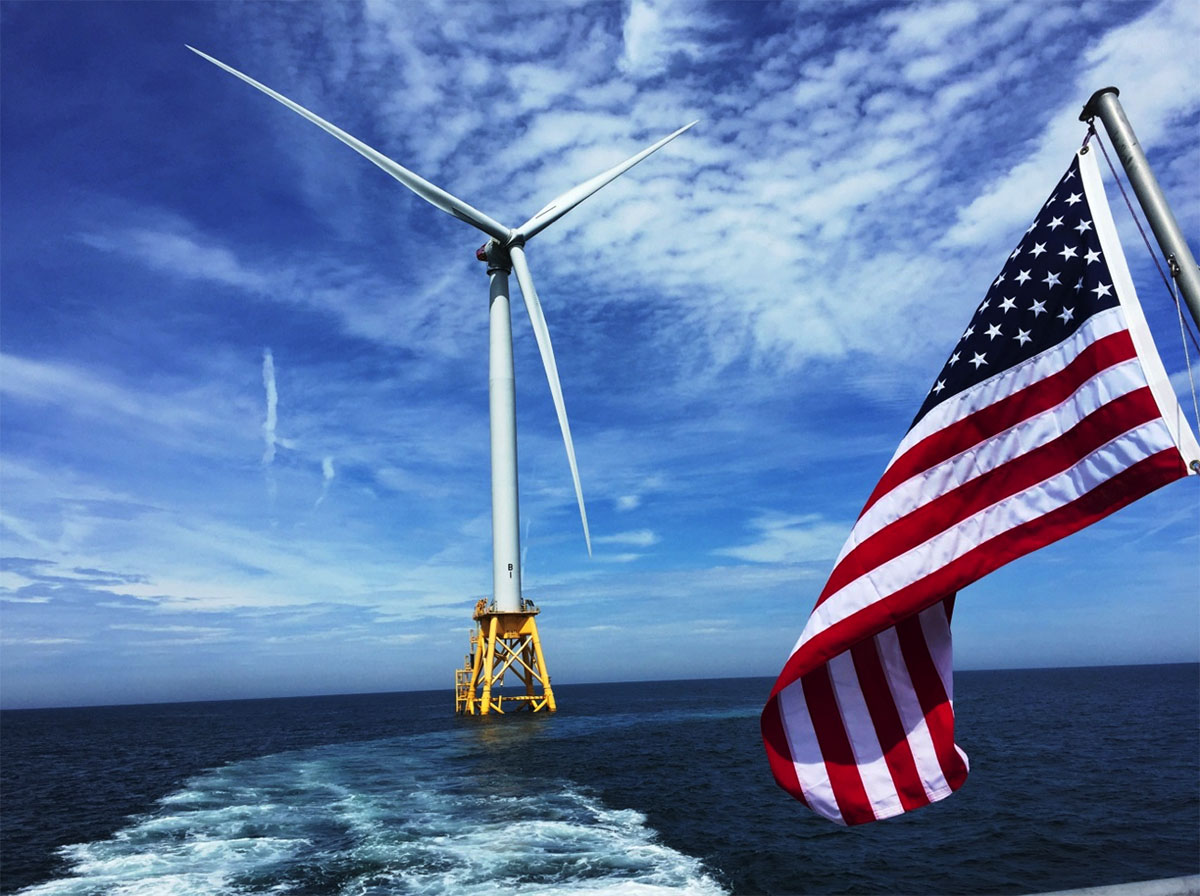 The ambitious offshore wind target will support around 77,000 direct and indirect jobs and trigger more than USD 12 billion (around EUR 10.2 billion) per year in capital investment in projects on both US coasts. More than 44,000 people are expected to be employed in offshore wind by 2030, with nearly 33,000 additional jobs in communities supported by offshore wind activity.
The 2030 target would also unlock a pathway to deploy 110 GW or more of offshore wind capacity by 2050, which would support a total of 135,000 jobs by that time: 77,000 in offshore wind and 58,000 additional jobs in communities supported by offshore wind activity.
New Priority Area and Accelerating OWF Permitting
To achieve this goal, which builds on US President Joe Biden's Executive Order signed in January, the Department of Interior's (DOE) Bureau of Ocean Energy Management (BOEM) plans to advance new lease sales and complete review of at least 16 Construction and Operations Plans (COPs) by 2025, representing more than 19 GW of offshore wind capacity to be installed off the US coasts.
BOEM has now announced a new priority Wind Energy Area in the New York Bight, an area of shallow waters between Long Island and the New Jersey coast, which can support up to 25,000 development and construction jobs from 2022 to 2030, as well as an additional 7,000 jobs, according to a recent study from Wood Mackenzie.
The authority has also issued a Notice of Intent (NOI) to prepare an Environmental Impact Statement (EIS) for the 1.1 GW Ocean Wind offshore wind farm in federal waters off Atlantic City, and anticipates initiating environmental reviews for up to ten additional projects later this year.
To reach the 30 GW target by 2030, the Department of Energy's (DOE) Loan Programs Office (LPO) released a fact sheet to facilitate access for up to USD 3 billion (around EUR 2.6 billion) in funding through LPO's Title 17 Innovative Energy Loan Guarantee Program. LPO is open for business and ready to partner with offshore wind and offshore transmission developers, suppliers, and other financing partners. To date, LPO has provided USD 1.6 billion in support of projects totaling about 1,000 MW of onshore wind.
USD 230 Million in Grants for Port Upgrades
The 2030 offshore wind target will catalyse significant investments to strengthen the domestic supply chain. This includes port upgrades totaling more than USD 500 million (approximately EUR 426 million), one to two new US factories for each major wind farm component including wind turbine nacelles, blades, towers, foundations, and subsea cables. There will also be an additional cumulative demand for more than 7 million tonnes of steel, which is equivalent to a four-year output for a typical US steel mill, according to the White House.
The supply chain investments will also involve the construction of four to six specialised wind turbine installation vessels (WTIVs) in US shipyards, each representing an investment between USD 250 and USD 500 million.
To upgrade the country's ports to accommodate the upcoming surge in offshore wind projects, the US Department of Transportation's (DOT) Maritime Administration has now announced a Notice of Funding Opportunity for port authorities and other applicants to apply for USD 230 million (around EUR 196 million) for port and intermodal infrastructure-related projects through the Port Infrastructure Development Program.
R&D and Data-Sharing
The offshore wind plan by the Biden Administration also encompasses supporting critical research and development (R&D) and data-sharing.
The National Offshore Wind Research and Development Consortium (NOWRDC), created by the DOE and the New York State Energy Research and Development Authority (NYSERDA), has announced the award of USD 8 million to 15 offshore wind research and development projects that were selected through a competitive process and will focus on offshore support structure innovation, supply chain development, electrical systems innovation, and mitigation of use conflicts that will help reduce barriers and costs for offshore wind deployment.
Furthermore, the Department of Commerce's National Oceanic and Atmospheric Administration (NOAA) has just signed a Memorandum of Agreement with Ørsted to share physical and biological data in Ørsted-leased waters subject to US jurisdiction. The agreement, the first of its kind between an offshore wind developer and NOAA, paves the way for future data-sharing agreements that NOAA expects to enter into with other developers. 
NOAA's Northeast Sea Grant programs, in partnership with DOE, DOC, and NOAA's Northeast Fisheries Science Center, has also released a request for research proposals to support more than USD 1 million in grant funding to improve understanding of offshore renewable energy for the benefit of a diversity of stakeholders, including fishing and coastal communities.