French Pilot Project Enters Survey Phase
iXblue has begun conducting the geophysical survey at the site of the Groix & Belle-Île pilot offshore wind project in France.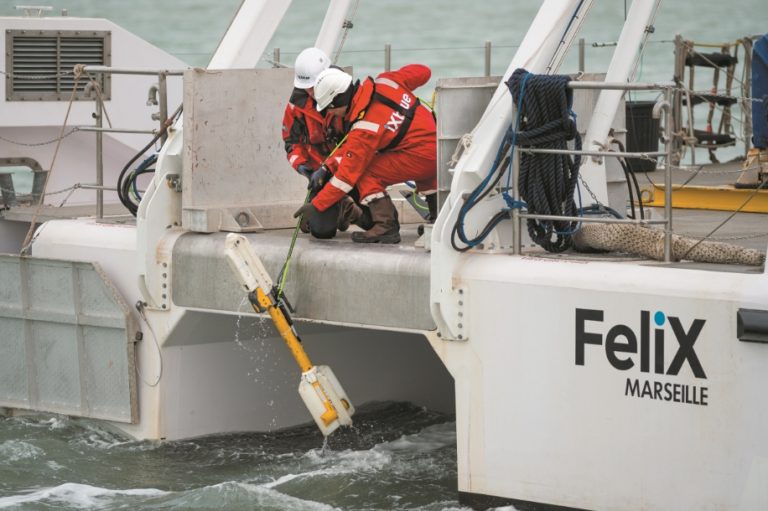 Under a contract secured with EOLFI, iXblue's crew of hydrographic surveyors and geophysicist engineers is carrying out the survey onboard the company's hydrographic research vessel FeliX.
According to the company, the survey began this week at the project site in the South of Brittany and will take a total of five days.
iXblue said it is using an MBES for high-resolution bathymetry, a towed side-scan-sonar for seafloor nature identification, a magnetometer for object detection and a sparker for sediment thickness.
The company's sub-bottom profilers, Echoes 3500 and 10 000, and Gaps pre-calibrated USBL system are used to get the positioning of the collected data from towed sensors.
"We needed a detailed mapping of the seafloor and sub-seafloor properties over the future wind farm area in order to optimize design and plan future installation," said Skander Hili, Geosciences Lead at EOLFI.
In February, the European Commission approved French plans to support the Groix & Belle-Île demonstration wind farm in the Atlantic Ocean, as well as the Golfe du Lion, Eolmed, and Provence Grand Large projects in the Mediterranean Sea.
The projects will respectively comprise three to four turbines and will each have a total installed capacity of 24MW.