The Jones Act in US offshore wind: challenge or opportunity?
The Jones Act, long seen as a challenge for the US offshore wind industry, could potentially be an opportunity for the sector, experts have said.
"I like to look at the Jones Act as an incentive for shipyards, not an impediment," said Joan Bondareff, chair of the Virginia Offshore Wind Development Authority, of counsel at Blank Rome LLP and one of several specialists to address the audience at the US Offshore Wind 2018.
"It's been around for 100 years and it's a law we're going to have to live with," she said.
Frederik Colban-Andersen, divisional director for offshore renewables at the integrated shipping services provider Clarksons Platou, said dealing with the Jones Act might force the US offshore wind industry to come up with innovative installation strategies.
"There is a business opportunity for the US to try to shake things up," he said. "It's really up to the US industry to convince the European industry we can do things in a different way."
It is still unclear exactly how the US offshore wind industry will deal with the Jones Act, however.
US ports
The Act, a federal law dating back to 1920, requires goods shipped between US ports to be transported on ships that are built in the US, mostly owned by US entities and operated by US citizens or permanent residents.
This means vessels created for the offshore wind industry in Europe could not operate on US wind farms unless they do so from European bases, or receive components and crew delivered by Jones Act compliant feeder vessels. However, creating new offshore installation vessels just for the US market is also likely to be costly, as it would likely be limited to the home market and not competitive for global application. "Foreign investors are looking at US companies for joint ventures to comply with the Jones Act for installation work," Joan Bondareff added.
According to Colban-Andersen, "it can be 50 to 100% more expensive depending on which vessel you are targeting. It's very important for the industry to understand the price level at US shipyards."
The Jones Act is not the only issue facing offshore wind operations in the US. "Ports are just as much of a challenge as the vessels," said Greg Matzat Vice President of Development at Vineyard Wind.
"The majority of ports have bridges in the way, so jack-up vessels are not going to be able to use them. It will require different solutions than are being used in Europe. Part of the challenge is not that we need a Jones Act vessel, we need a Jones Act solution."
Andy Geissbuehler, managing partner of Renewable Resources International, which operates in the US in partnership with BVG Associates, agreed that "marine logistics sounds like one item but it's an integrated challenge. Everything is connected to marine logistics."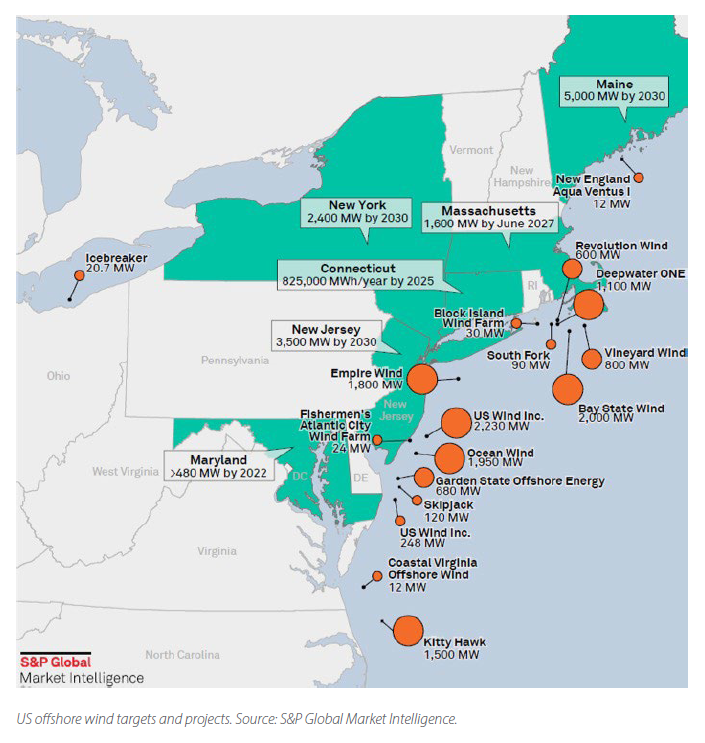 Furthermore, he said: "Marine logistics is a substantial success factor for the project. Although we know installation per se is less than 10% of the project cost, any elements related to that scope have a tremendous impact on the financial success of the project."
While there is still little clarity on how the US offshore wind industry will ultimately overcome Jones Act and port-related challenges, most experts do not foresee a major problem in servicing the 1.7 GW of capacity slated for imminent installation.
Scott Dingman, president of Delta SubSea, a provider of inspection maintenance and repair and light construction services, said that of 60 or so vessels that might be needed for upcoming wind farm installations, 55 are in the market today.
Apart from installing monopiles, he said the existing fleet of US dynamic positioning vessels will be good to "transfer over for interconnecting cables, geotechnical survey, route survey and things of this nature."
Ketil Arvesen, vice president of Fred. Olsen Windcarrier, which helped install Block Island, confirmed that the first 1.7 GW of wind farm construction "is a phase where you can comply with the Jones Act with existing solutions."
These wind farms would likely use similar assets to those deployed for Block Island, he said. "We have a solution that is based on existing American ships," he commented. "It's a proven solution."
Jones Act-compliant vessels
Longer term, the big question for the industry is who will invest in Jones Act-compliant vessels for specialist tasks such as monopile installation. Right now, said Dingman, "I think you're looking at retrofit vessels. I cannot see the expenditure in new assets."
Furthermore, said Matzat: "You're not going to build a vessel for one state, so [support] will not be easy at the state level."
Nevertheless, he said: "Whoever goes first will have a big advantage."
Harald Arndt, head of research and development and project manager for offshore at German shipmaker Neptun Ship Design, added: "We believe [we] really need to think about a new Jones Act-compliant vessel with higher efficiency as those in Europe, which are suitable for greater sizes of wind turbine, tower and blades and are able to navigate bridge height restrictions."
"As we see the amount of equipment that needs to be built up, it's a real chance for the whole industry in the US and the coastal states. The decision for one main offshore harbor will be necessary, because the logistic solution onshore and offshore needs to be combined with the design of the Jones Act-compliant transport vessel fleet."
And Geissbuehler said one blessing of the Jones Act was that it wouldn't add to the uncertainty of US offshore wind. "At least we know what we're dealing with," he said.
NOTE: This article was produced in conjunction with the 4th Annual US Offshore Wind Conference and Exhibition, June 10-11 at the Boston Park Plaza Hotel. America's BIGGEST US offshore wind event – ever! Join 1300+ wind power executives and 50+ exhibitors for the world's largest networking event for existing and new market players that are seeking to invest, find partners or secure contracts in upcoming US offshore wind projects. Read more: http://bit.ly/USOffshoreWind2019
Note: The opinions, beliefs, and viewpoints expressed in this article do not necessarily reflect the opinions of Offshore WIND.
Photo: Source new Energy Update