Sumitomo: Offshore Wind Investors Must Find Way to Handle Merchant Risk (Expertise Hub VIDEO)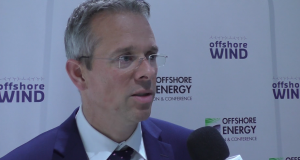 Zero subsidy offshore wind projects leave the actual electricity price as the only source of income and it is quite difficult for traditional investors such as banks to finance these projects, because that would mean that the banks lending the money must agree to take on the merchant risk, said Christoph Mertens, CEO Summit Renewable Power Europe, a wholly owned subsidiary of Sumitomo Corporation.
This could reduce the number of players in the offshore wind investment market from around 20 to around 6 of those who do not have to rely on the banks but can arrange corporate financing for the projects, Mertens said.
Sumitomo is currently working on finding a new way of arranging project financing in a way that it can allow for subsidy free bids, such as introducing some hedging elements as well as power procurement agreements, according to Mertens.
The industry can help keep offshore wind projects bankable by offsetting the reduction in the strike prices with lower CAPEX, said Mertens.
The strike prices in the most recent Contracts for Difference (CfD) round in the UK are at a good level despite a 50% drop compared to the auction results in 2015, as significant cost reductions were made in the CAPEX stage of the projects, Mertens said.
Speaking of the subsidy free bids in Germany, Mertens said that even though it was expected for offshore wind to reach this stage, the news was a bit of a surprise as no one expected it to happen so soon.
Watch our Expertise Hub video to find out which other European offshore wind markets are of interest to Sumitomo, as well as which markets outside Europe show good potential for investment.
---
For more Expertise Hub interviews, visit Navingo's Offshore WIND channel on Vimeo.