UPDATE ON FRANCE: The great potential of offshore wind in France
France is ranked 2nd in Europe regarding the offshore wind potential, just behind the United Kingdom. And while no wind farms are installed to date this will change in the next few years to come. Offshore WIND asked France Energie Eolienne (FEE), the French wind energy association, to provide an update on the current status and planned developments of offshore wind in France.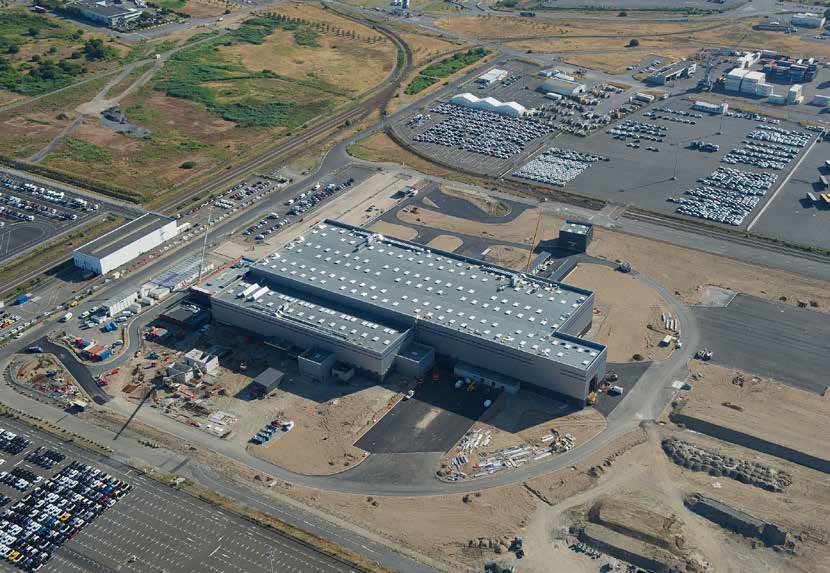 In the new French energy law that is currently discussed at the Senate, the renewable targets for France include a 23% share of the final annual energy consumption by 2020. The share should further grow to 32% by 2030. France can capitalise on its three maritime facades to expand fixed and floating offshore wind turbines. In 2009, the objective was enacted of 6GW of offshore wind power by 2020. These are outlined in the "programmation pluriannuelle énergétique 2010-2014". Several tender rounds would have to ensure that this target could be realised.
Round 1
A first tender was launched by the French Government in 2011. Four development zones, with a total capacity of 2GW, were designated for offshore wind. These are: Saint-Nazaire, 480MW Courseulles-sur-Mer, 450MW Fécamp, 498MW Saint Brieuc, 500MW.
These four wind farms are now under development. As mentioned in the interview with EDF EN, a consortium led by EDF EN with DONG Energy, wpd and in partnership with Alstom, won the right to develop the first three projects in 2012. In the next few weeks they will invite contenders to participate in the tender for contracts. The concession right for Saint Brieuc was awarded to the Iberdrola – Eole-RES consortium.
Round 2 & 3
The second tender, of 1GW, was announced in 2014 and consists of the 496MW Le Treport offshore wind zone and the similar large zone Ile d'Yeu et de Noirmoutier. Both zones were awarded to the consortium of GDF Suez, AREVA, EDP Renewables and Neoen Marine.
Following a consultation in the first half of 2015 by the Ministry of Ecology on favourable zones for fixed offshore and development of pilot floating wind technologies, a third round is expected by the end of 2015, as announced by the Government.
National strengths
These tenders represent a huge opportunity for France. It has one of the strongest industries considering its industrial know-how and historical experience especially in electrical, aerospace and automotive components, steel, maritime and oil & gas works. Some mayor French players such as GDF Suez, AREVA, Alstom or EDF are already active in the international offshore wind market (UK, Germany, Spain…). More and more they are also getting French suppliers involved in their international projects. The experience gained abroad by these companies provides a useful base for the development of offshore wind in their own homeland.
France has shipyards located on the Atlantic coast, which are now positioned to manufacture steel foundations. It has also important assets regarding its port capacities and dimensions, such as Dunkerque, Cherbourg, Rouen/le Havre, Brest, Nantes Saint-Nazaire and Bordeaux, which are well adapted for the assembly and the storage of wind turbines and for further activities in operation and maintenance.
France, given its position can also be an important stakeholder for the equipment of offshore wind farms in the UK, which has announced high objectives.
The tenders launched by the French Government in the fixed offshore and marine energies will enable to create a strong industry ("ecosystem" of small and medium size enterprises) with a significant expertise, which will then be able to get more market shares in the international wind market.
Already there is proof of this. In December last year Alstom inaugurated France's first offshore wind turbine production plants in Saint-Nazaire. These new plants will be producing the wind turbine nacelles and generators for their Haliade™ 150-6MW turbines. Around 300 jobs were created for this.
Also, in the area of floating wind technology there are currently several French actors in an advanced stage, with serious R&D projects being done. These should have a competitive advantage in the future global market on condition that France strongly supports this sector which still is not mature. The Prime Minister's announcement in December 2014, for a future 150 Million Euros call for bids for pilot floating farm(s) in June 2015 is a positive signal.
Possible bottlenecks to overcome
In the process of preparing for the first offshore wind farms there are still some challenges that could be addressed. The simplification wanted by the French Government in the development of wind farms is already on the right way. The unique authorisation procedure should accelerate the development of wind farms. The "Conseil d'Etat" as the first and last resort jurisdiction Court could be another progress for legal affairs (reduction of treatment time for litigation).
Another area to be addressed concerns the connection period to the grid. Some legislative changes (declaration of public utility for the coastline for instance) could reduce the waiting time, now three years, to undertake the connection works. And last but not least, the support mechanism for offshore wind energy should be strong enough to allow projects to build a strong sector. As is the case in most countries developing offshore wind, the main objective of the offshore wind industry is to reduce costs and introduce more competitiveness to improve the current technologies.
With thanks to Sonia Lioret, CEO and Matthieu Monnier, Industry and Offshore Wind Advisor