Dutch Govt to Overlook Seabed Survey Works at OWF Sites
The Dutch Ministry of Economic Affairs has released an additional call for tenders, related to the recently announced seabed soil investigation at the country's areas identified as offshore wind sites. The Ministry issued a European tender for a Representative of the Dutch State during soil investigations in the North Sea, aboard the vessels or site of contractors executing the works in accordance with the contract.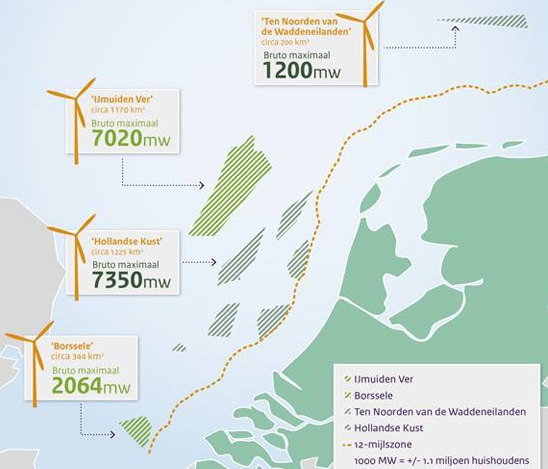 Should there be a requirement, the Dutch Government will request an offshore representative to be present on the vessels or site of the geotechnical or geophysical site investigations. The purpose of this is to monitor whether the work is done respecting the applicable HSE and Quality requirements and within the scope and conditions of the contract.
The Government stated that it intends to contract three parties to undertake this job.
The soil investigations will be conducted at the following wind farm zones:
Wind farm zone 'Borssele' – 345 km2 including an additional area of 1 km around the zone (approx. 78 km2) to be surveyed;
Wind farm zone 'IJmuiden ver' – 1,1 70 km2;
Wind farm zone 'Hollandse Kust1' – 1,225 km²;
 Wind farm zone 'Boven de wadden' – 200 km².
Works will not be continuous, but the earliest that they will commence is November 2014 and are expected to end in December 2015, except for the wind farm zone 'Borssele', which is scheduled to enter the construction phase next year.
The exact duration of the shifts shall be determined on the basis of statutory requirements and in close consultation with the Client offshore representatives. Planning of the other three wind farm zones is in progress, but an overlap in the investigations in the different zones is not to be expected.
Related: Dutch Call for OW Soil Investigation Tenders
(For more related articles, scroll below this post.)
[mappress mapid="14321″]
Offshore WIND Staff, October 03, 2014; Image: ponderaconsult