US Wind Inc. Provisionally Wins Maryland Offshore Wind Lease
The U.S. Bureau of Ocean Energy Management (BOEM) yesterday held the nation's third competitive lease sale for renewable energy in federal waters, which offered nearly 80,000 acres offshore Maryland for potential wind energy development.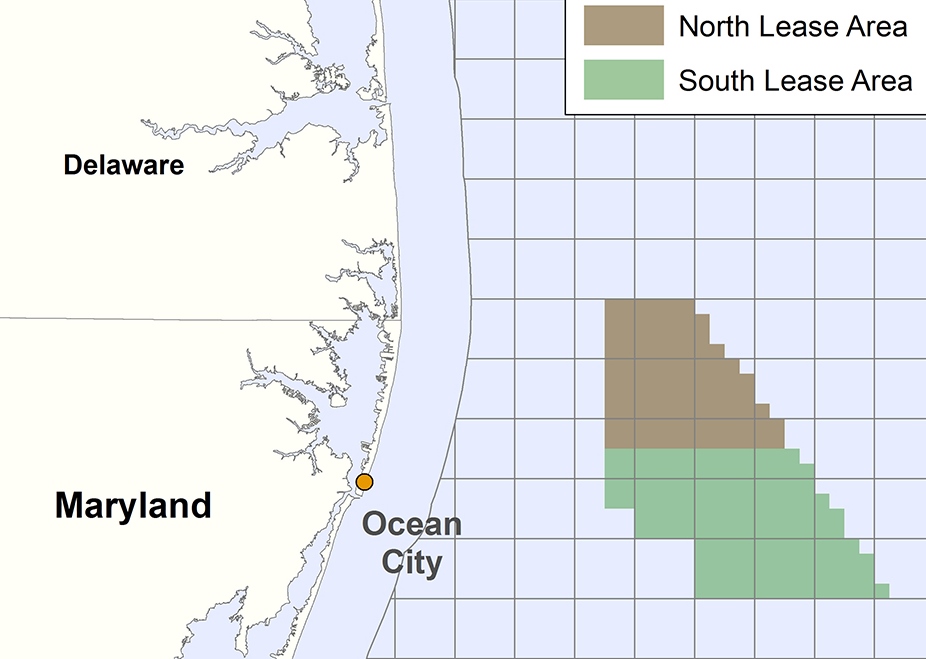 The provisional winner of the lease sale is US Wind Inc. When fully built, this wind energy area could generate enough energy to power about 300,000 homes.
"Today's results are a major achievement and reflect industry confidence as we strengthen our nation's foothold in this new energy frontier," said Secretary Sally Jewell. "I want to thank Governor Martin O'Malley, his team and members of BOEM's Maryland Intergovernmental Renewable Energy Task Force for all of their hard work and leadership leading up to today's successful auction. The collaboration and thoughtful planning that went into this lease sale will serve as a model as we continue up and down the coast in our efforts to ensure wind energy is developed in the right way and in the right places."
BOEM auctioned the Maryland Wind Energy Area as two leases, referred to as the North Lease Area (32,737 acres) and the South Lease Area (46,970 acres). US Wind Inc. submitted the provisionally winning bid for both lease areas.
The Maryland Renewable Energy Task Force has been a leading agent in intergovernmental collaboration for wind energy development offshore Maryland.
The provisionally winning bid amounts to $8,701,098. The auction lasted 1 day, consisting of 19 rounds before determining the provisional winner. In addition to US Wind Inc., Green Sail Energy LLC and SCS Maryland Energy LLC participated in the auction.
BOEM Acting Director Cruickshank said: "We will continue to work closely with the Task Force members and the public on any future wind energy projects proposed for these leases by US Wind Inc."
The Maryland Wind Energy Area is located, at its closest point, about 10 nautical miles offshore Ocean City, Md., and has the potential to support between 850 and 1450 megawatts of commercial wind generation, according to Department of Energy's National Renewable Energy Laboratory.
The Attorney General, in consultation with the Federal Trade Commission, will have 30 days in which to complete an antitrust review of the auction. BOEM will then send unsigned copies of the lease form to the winning bidder, who will have 10 days to sign and return the leases, file required financial assurance and pay the balance of the winning bid.
Each lease will have a preliminary term of one year, during which the lessee will submit a Site Assessment Plan to BOEM for approval. If a Site Assessment Plan is approved, the lessee will then have up to 4½ years in which to submit a Construction and Operations Plan (COP) to BOEM for approval. After BOEM receives a COP from a lessee, it will conduct an environmental review of that proposed project. Public input will be an important part of BOEM's review process.
If the COP is approved, the lessee will have an operations term of 25 years.
Press release, August 20, 2014; Image: BOEM