Ørsted Ups Full-Year Guidance on Operating Profit, Gross Investments
The world's leading offshore wind developer Ørsted has increased its full-year operating profit (EBITDA) guidance and gross investment guidance following the release of the results for the second quarter of the Fiscal Year 2022.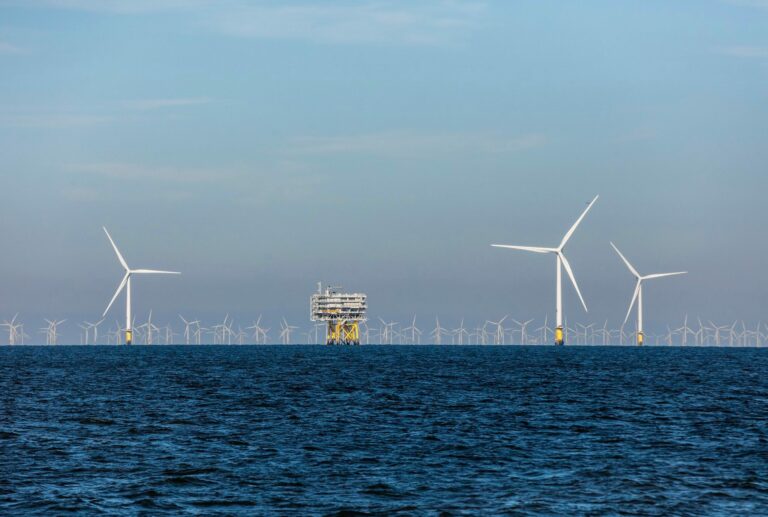 The company's EBITDA for the first half of the year amounted to DKK 13.044 billion (EUR 1.75 billion), in line with the same period last year when EUR 13.059 billion was reported.
EBITDA excluding new partnerships for the period increased by 48 per cent to DKK 11.4 billion.
Net profit amounted to DKK 5.97 billion in the first half of 2022, a 16 per cent drop compared to the net profit of DKK 7.142 billion recorded in the first half of 2021. The return on capital employed (ROCE) came in at 15 per cent in the first half of 2022.
The EBITDA guidance excluding new partnership agreements was raised by DKK 1 billion to DKK 20-22 billion. The increase is primarily due to higher earnings in Bioenergy & Other and in Onshore, the company said.
The EBITDA guidance does not include earnings from new partnerships during the year, like the gain from the 50 per cent farm-down of Borkum Riffgrund 3 in the first quarter of 2022 and the upcoming farm-down of Hornsea 2.
The company has also increased the gross investment guidance by DKK 5 billion to DKK 43-47 billion. The increase is due to the expected closing of the EUR 689 million acquisition of Ostwind, a developer of onshore wind farms in Germany and France.
"In addition to a strong set of results for the period, including an increase of our full-year EBITDA guidance, we've achieved significant strategic milestones," Mads Nipper, Group President and CEO of Ørsted, said.
"We were awarded a contract for the world's single biggest offshore wind farm, Hornsea 3 in the UK, with a capacity of 2,852 MW. With this significant win and maturation of other offshore projects, we're well on track to achieve our target of 30 GW offshore wind by 2030. In general, we've seen positive market development during the first half of 2022. Both the EU and the US have presented very ambitious plans to accelerate the build-out of renewable energy, which ensures a strong platform for continued growth within the development of renewable energy."
Offshore Wind
Power generation at Ørsted's offshore wind farms increased by 32 per cent to 3.3 TWh in the second quarter of 2022.
The increase was due to ramp up at the Hornsea 2 wind farm offshore the UK and higher wind speeds. This was only partly offset by the farm-down of 50 per cent of Borssele in May 2021, the company said.
Wind speeds amounted to a portfolio average of 8.4 m/s, which was higher than 7.8 m/s wind speeds in Q2 2021, but below the normal wind speeds of 8.7 m/s expected in the second quarter.
Availability ended at 94 per cent, slightly higher than the same period last year.
Revenue increased by 94 per cent to DKK 17.3 billion in Q2 2022. Revenue from offshore wind farms in operation increased by 42 per cent to DKK 4.8 billion, mainly driven by higher generation and higher power prices for the merchant part of the portfolio. Revenue from power sales almost doubled to DKK 10.4 billion due to the higher power prices and higher volumes sold. Revenue from construction agreements increased by DKK 2.3 billion, mainly related to the construction of Greater Changhua 1 for partners.
Revenue for the first half of 2022 amounted to DKK 37.142 billion, a 67 per cent increase compared to DKK 22.225 billion revenue reported for the same period in the previous year.
EBITDA decreased by DKK 5.6 billion and amounted to DKK 1.9 billion. EBITDA from Sites, O&M, and PPAs amounted to DKK 2.0 billion in Q2 2022.
Despite a positive impact from higher wind speeds in the quarter and ramp-up of generation at Hornsea 2, EBITDA decreased by 14 per cent, the company said. This was primarily due to overhedging and ineffective hedges across the offshore portfolio, including later-than-expected commissioning of wind turbines at Hornsea 2 and slightly lower than normal wind speeds.
Furthermore, the company saw negative effects from high prices and volatility, from expanding its portfolio, and from the farm-down of 50 per cent of Borssele. EBITDA from partnerships amounted to DKK 0.6 billion and related to existing partnerships, mainly construction work at Greater Changhua 1 for partners.
The second quarter of 2021 was positively impacted by the farm-down of 50 per cent of Borssele to the tune of DKK 5.4 billion.
Adjusted for new partnerships, EBITDA from existing partnerships increased by DKK 0.4 billion. EBITDA from other activities, including project development, amounted to DKK -0.7 billion, DKK 0.2 billion more than in Q2 2021, and was mainly related to expensed project development cost.
Follow offshoreWIND.biz on: