Baltimore-headquartered offshore wind developer US Wind has initiated a number of steps in the development of offshore wind energy for the US State of Maryland.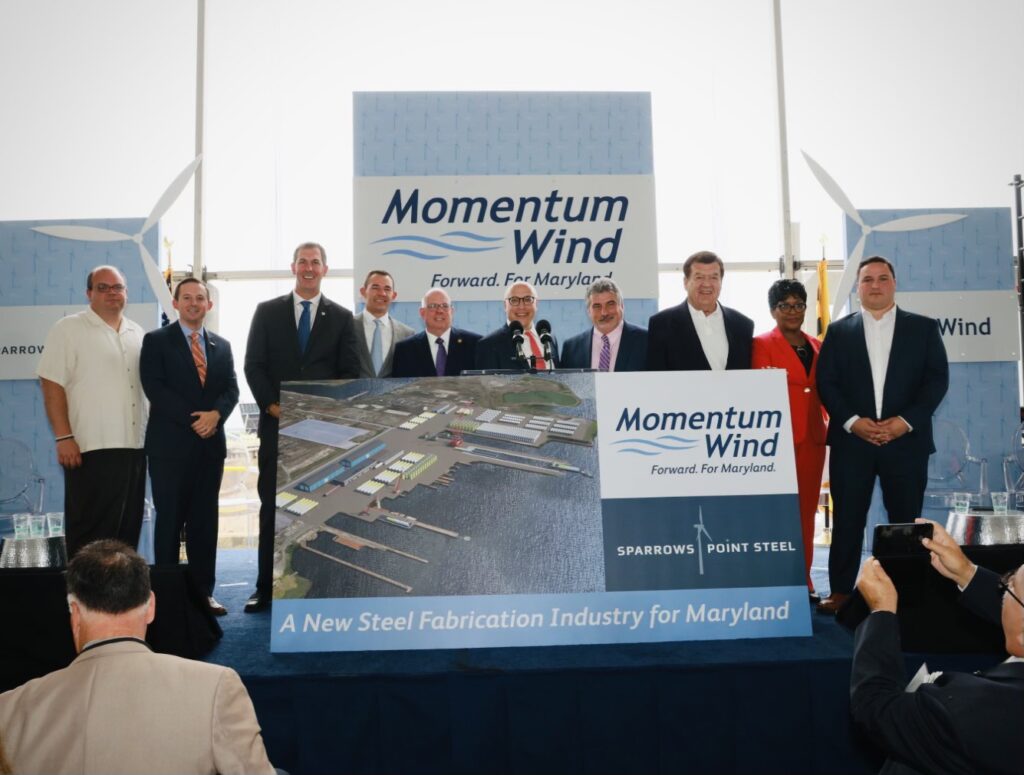 These include major labor agreements to support US Wind's first offshore wind project for Maryland, the 22-turbine MarWin project, and all other future projects; a new port facility agreement with Tradepoint Atlantic to develop 90 waterfront acres into a new offshore wind deployment hub, where US Wind will initially invest USD 77 million via the MarWin project; expansion plans for the development of up to an additional 1,200 MW of offshore wind energy with the new Momentum Wind project; and a proposal for a new steel fabrication facility in Baltimore County at the Tradepoint Atlantic site – Sparrows Point Steel – to be built in conjunction with Momentum Wind.
"Because of the successes we've achieved in the development of MarWin, US Wind is ready to offer Maryland its most ambitious clean energy project to-date and, with it, the state's first permanent offshore wind steel fabrication facility," said Jeff Grybowski, US Wind CEO.
"Developing Momentum Wind and Sparrows Point Steel at full capacity will give Maryland the opportunity to bring steel back to Baltimore and become the epicenter of offshore wind manufacturing."
At full capacity, Momentum Wind would include up to 82 turbines and will be Maryland's most ambitious clean energy project, able to fully satisfy the state's offshore wind energy goals and make substantial progress toward meeting Maryland's renewable energy and greenhouse gas reduction goals, the developer said.
Catalyzed by a 90-acre lease agreement with Tradepoint Atlantic at Sparrows Point Shipyard, the former home of Bethlehem Steel, US Wind will build on the port investment already committed via the MarWin project to facilitate the investment of an incremental USD 150 million to develop Sparrows Point Steel, Maryland's first manufacturing facility dedicated to the creation of offshore wind foundations, known as monopiles.
"The combination of expanding offshore wind and welcoming steel back to Sparrows Point is truly a full-circle moment for Tradepoint Atlantic," said Tradepoint Atlantic Managing Director, Kerry Doyle.
"We are here today because both the private and public sectors have consistently pulled together to reimagine this iconic site and once again make it a place where thousands of hard-working Marylanders could find good paying jobs and provide for their families. US Wind's vision for the future and commitment to establishing critical elements of the offshore wind supply chain at Tradepoint Atlantic is transformational and we look forward to partnering with them for many years to come. Ultimately, there is much work to be done to keep Maryland well-positioned in this emerging industry and Tradepoint Atlantic will continue to be a national leader pushing for even greater growth and success. As Marylanders, we should be very proud – offshore wind is here, and steel is back."
Sparrows Point Steel has the potential to be one of the largest offshore wind staging ports in the United States, according to US Wind. With significant marshaling and storage land, considerable quayside access, and an adjacent drydock, Sparrows Point Steel would be one of the most competitive wind logistics hubs on the US East Coast, capable of staging and delivering several wind components, such as nacelle, towers, and blades, as well as foundations.
"The State of Maryland is proud to support this transformative and game-changing partnership between US Wind and Tradepoint Atlantic, two of the leaders of Maryland's economic turnaround," said Maryland's Governor Larry Hogan.
"Offshore wind presents a once-in-a-generation opportunity to expand and diversify our economy and our energy portfolio. Maryland is proud to continue to be an example of strong environmental leadership, and I am confident that we will be a leader in offshore wind development for decades to come."
Through the development, construction, and operations phases of Momentum Wind, the project can support thousands of Maryland jobs and lead directly to the investment of hundreds of millions of dollars in the Maryland economy, US Wind said.
The additional economic benefits stemming from Sparrows Point Steel, when the facility is at full operations, would include more than 500 local, permanent jobs; more than USD 1 billion in labor income over 20 years; and an increase in Maryland's GDP by USD 6.9 billion over 20 years.
Maryland's solicitation of up to 1,200 MW of offshore wind energy is the direct result of the Clean Energy Jobs Act of 2019 (CEJA). Maryland now has a golden opportunity to start a chain of events that will bring steel back to Baltimore and the ripple effect of jobs and prosperity that will power Maryland's post-COVID economy, US Wind said.