Icebreaker Moves Through the System
The technical staff of Ohio Power Siting Board (OPSB) has published its Report of Investigation, recommending that the Board approves the construction of the proposed Icebreaker offshore wind farm in Lake Erie, subject to certain conditions.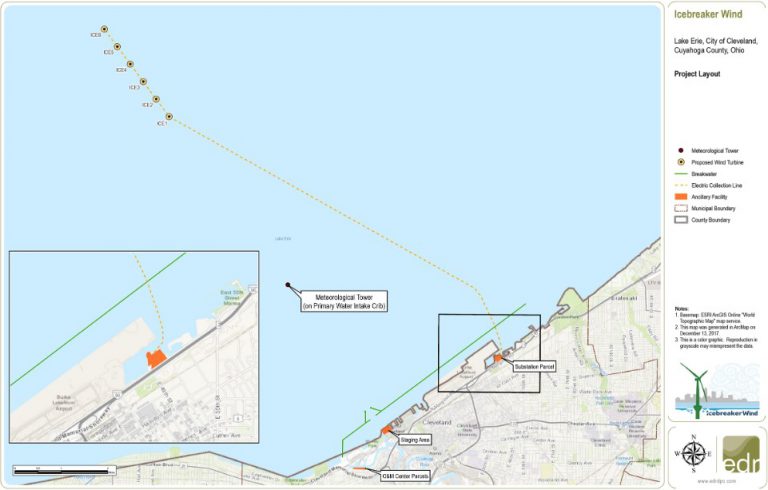 The staff recommends that Icebreaker Windpower, the developer of the 20.7MW wind farm, fulfills 34 conditions relating to the project's environmental impact.
The report states that the issue of the proposed offshore wind farm is on the migrations of birds and bats, thus the developer is requested to prove that the project is not a threat to the migrations.
Namely, among the conditions, the OPSB staff requires that a radar monitoring program is installed, which must be able to detect and track directional movement and altitude of individual vertebrates.
The radar must collect data for both small bird migratory seasons and bat migratory seasons, from April to mid-June and from August to mid-November, preconstruction.
In addition, the wind farm's six turbines should be feathered completely from dusk to dawn from 1 March through 1 January, until it has been demonstrated that the post-construction avian and bat collision monitoring plan is sufficient.
The final decision still remains pending before the Board, since the report is only a recommendation.
A local public hearing is scheduled for 19 July, with an adjudicatory hearing to be held on 6 August.
The Icebreaker wind farm will consist of six MHI Vestas wind turbines with a nameplate capacity rating of 3.45MW located approximately 8 to 10 miles offshore Cleveland.
The original developer of the project was the Lake Erie Energy Development Corporation (LEEDCo). In 2016, LEEDCo partnered with Norway's Fred. Olsen Renewables (FOR), who established FORUSA and Icebreaker Windpower to be the owner, developer, and operator of the wind farm.