US Wind Cleared to Install Maryland Offshore Wind Met Mast
US Wind has received its final air emissions permit from the Maryland Department of the Environment to install a meteorological tower in the Maryland Wind Energy Area, with the company set to begin the installation process immediately.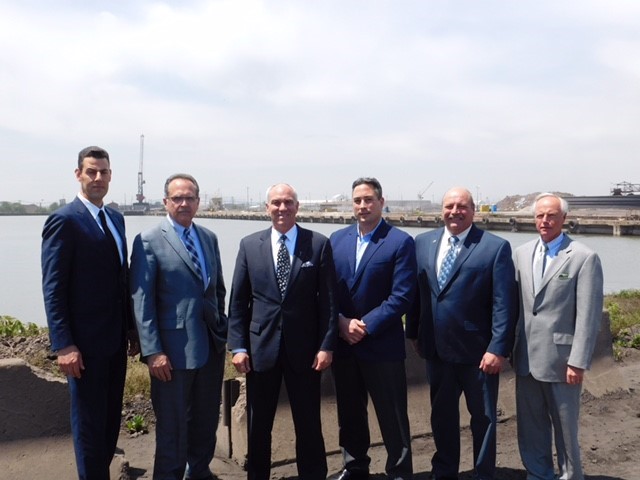 On 10 May, US Wind also hosted several fabrication companies in Baltimore to discuss plans to locate more than USD 100 million worth of industrial facilities in the Sparrows Point area associated with their 750MW offshore wind project off Ocean City, Maryland. As part of the visit, representatives from US Wind brought leaders from Ventower Industries, Heavy Metal, Inc. and JDR Cable Systems to a meeting with top officials from the Maryland Department of Commerce.
"US Wind isn't just trying to build a few wind turbines off the coast – we're trying to bring a new $16 billion net export industry sector to Maryland," said Paul Rich, director of project development. "Each new fabrication facility that we can bring to Maryland because of offshore wind will generate $30-50 million of investment in infrastructure and thousands of trained workers."
US Wind lead the industry and labor representatives on a tour today of the 3,100-acre former Sparrows Point steel mill, a site being redeveloped by Tradepoint Atlantic. According to US Wind, the Tradepoint Atlantic site is uniquely positioned to become the hub of offshore wind industrial activity for the entire East Coast of the United States for generations to come.
Following the installation of the met mast, the next step for US Wind is to focus on its application for a Construction and Operations Plan to be submitted later this year to the federal Bureau of Ocean Energy Management (BOEM), according to the company.
US Wind is one of two developers whose applications for a Maryland offshore wind farm are being considered by the Public Service Commission (PSC) during a 180-day period, which began on November 28.
The two projects are in contention for a portion of the USD 1.9 billion Offshore Wind Renewable Energy Credit (OREC).
US Wind was the first developer to bid for OREC back in February 2016. The company plans to build a 750MW offshore wind farm some 12 to 17 miles off Ocean City. The wind farm will comprise 187 turbines, installed in 20-30 meters water depth. On 7 April, the company sent a letter to the Ocean City Council, offering to discuss the potential relocation of its proposed offshore wind project up to five miles eastward, which would reduce the visibility of any structures by more than 35 percent.
If approved, the project is anticipated to come online in early 2020, with an operational life expectancy of more than 25 years.
Deepwater Wind, the developer of America's first offshore wind farm, filed an OREC application with the Maryland Public Service Commission for approval of its proposed wind farm in October 2016. The company plans to build the 120MW Skipjack wind farm some 17 nautical miles northeast of Ocean City.
If approved, local construction work could begin as early as 2020, with the project in operations in 2022.
The Maryland PSC must reach a decision until no later than 17 May, when it will approve, conditionally approve, or deny the proposed offshore wind project applications.