European Offshore Wind Experts to Kick Start Maryland Industry
The world's most experienced offshore wind companies are visiting Baltimore to share their knowledge and meet with Maryland companies who are looking to enter the offshore wind energy industry.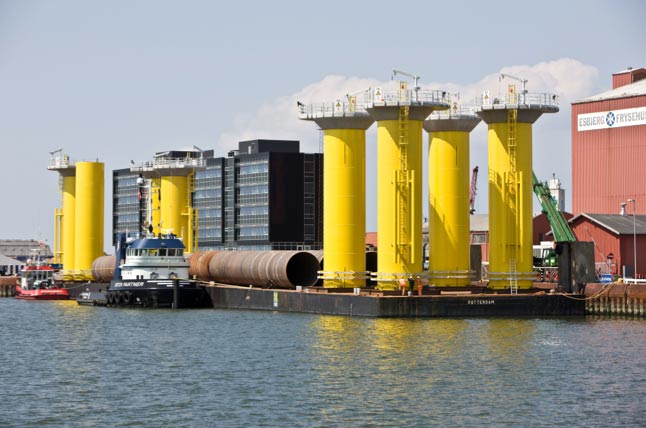 The Business Network for Maryland Offshore Wind's (BizMDOSW) is a 3-day gathering of European and American business executives, government officials, technical experts and academics brought together to build expertise among local companies. The event, to be held in Baltimore, Maryland on November 12-14, is expected to attract 250 participants from the U.S., Germany and Denmark including Dong Energy, Siemens, Vestas, Bladt Industries, Blue Water Shipping and A2Sea.
An International and U.S. Business Partnering Session will be held to help local businesses connect with experienced international firms. "Collaboration by local businesses with European firms, who have more than 20 years of experience and technical knowledge, will accelerate Maryland's offshore wind project development" said Don Hairston, General Manager of Cobham.
Forum participants will also hear directly from U.S. Wind, Inc., the newly-selected Maryland Wind Energy Area Developer. U.S. Wind will discuss the project vision, timeline and involvement of local businesses.
Forum topics include a presentation by Maryland State Officials on the Offshore Renewable Energy Credit (OREC), a publicly financed mechanism designed to support Offshore Wind Energy development. The presentation will address the developer's OREC application requirements, designed to bolster the creation and retention of Maryland jobs in the offshore wind industry. Other panels at the forum will address certifications, safety requirements, finance mechanisms, port infrastructure plans, logistics, construction, manufacturing, operations and maintenance.
The Maryland offshore wind development is projected to have steel in the water by 2019, and the development team expects to submit its OREC application to the state and to seek further permitting from U.S. Bureau of Ocean Energy Management. "Strategic partnerships and contracts are currently being negotiated and soft costs are now being spent by companies positioning themselves to be in the supply chain," says Liz Burdock, Executive Director, BizMDOSW.
"Maryland companies, seeking experience in the offshore wind market and the requisite certifications, are coming together through strategic alliances with regional and international companies to best position themselves for future business in the sector, estimated locally at $100M during construction and $300M during operations, " says Burdock.
[mappress mapid="14556″]
Press release; Image: bizmdosw