VolturnUS 1:8 Launched: Maine Brings U.S. Offshore Wind Dream to Reality
VolturnUS 1:8, the first grid-connected offshore floating wind turbine in the U.S., was officially launched by the University of Maine's Advanced Structures and Composites Center and its partners yesterday at 11 am (5 pm CET/CEST).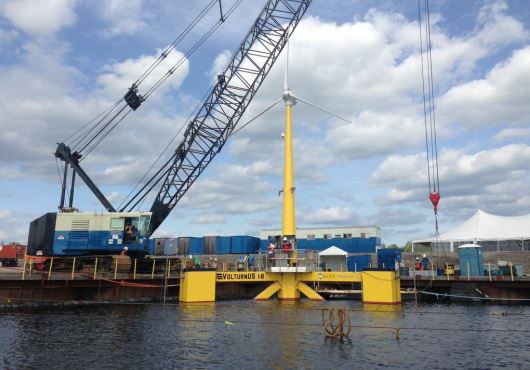 The 65-foot-tall VolturnUS prototype was lifted by a crane from the dock and lowered into the Penobscot River in Brewer. The unit, which is completely assembled, will be towed down the river to Castine this weekend. It is scheduled to be connected to the grid on June 3. Data acquired during the 2013 deployments off Castine and Monhegan will be used to optimize the design of UMaine's VolturnUS system.
Prior to the launch of the VolturnUS 1:8, Senator Susan Collins, an honored guest, broke a Madeira bottle on the hull and then UMaine Composites Center's Director Dr. Habib Dagher asked all honored guests and staff to sign the hull.
All for one, one for all
Peter Vigue, Cianbro Chairman and CEO opened the ceremony by congratulating to all Mainers. He said that Maine people designed and built the VolturnUS project "that will drive our economy".
"No one here is smarter than all of us," Mr. Vigue said.  This saying was kind of a "leitmotif" of the ceremony, which celebrated the involvement and support of numerous people from the state of Maine.
The project is a result of a successful cooperation between federal, state and educational institutions and private companies. It represents the UMaine and a team that faced problems such as resource allocation and policy issues, but was able to cope with them, said University of Maine System Chancellor Jim Page.
Dr. Habib Dagher thanked the congressional delegation, students and companies behind the project and welcomed people and schools from across the state of Maine, who attended the historic ceremony. He thanked the Maine Maritime Academy, which will tow the VolturnUS prototype to its position off the coast of Castine.
Dr. Dagher dedicated this project to the state of Maine and its people.
VolturnUS is built to last
The 65-foot-tall turbine prototype is 1:8th the scale of a 6 MW, 423-foot rotor diameter design. The full-scale unit is a massive device that has a composite and concrete design to withstand conditions in rough seas.
"It's going to survive the perfect storm," Dr. Dagher said, adding that the structure is made out of concrete and that it is built to last.
Just like the prototype, the full-scale floating wind turbine will be assembled onshore and towed to its spot. This will reduce costs by avoiding the need for jack-up barges and assembly at sea. Furthermore, turbines will also be repaired on land by bringing the units to the coast and then towing them back after reparation work.
"This machine will be floating beyond horizon of the state of Maine, so nobody will see it," Dr. Dagher told Mainers.
Maine confirms its motto and leads the U.S. to clean energy consumption and reduction of energy costs
Angus King, United States Senator from Maine highlighted the state's motto ‒ Dirigo, which is Latin for I lead. "It should be dirigamus – we lead," he said. Senator King spoke about energy situation that needs to be changed by focusing on renewable energy, especially offshore wind, for the sake of future generation because "we have this planet on loan".
Congressman Michael Michaud said that VolturnUS is the first step toward low-cost, alternative and clean energy in Maine. The project could help in establishing the state as a good place for investment in renewables and job creation.
Senator Susan Collins said that this project, which is the first of its kind in the world, confirms her belief that the greatest researchers are right there – in the state of Maine. "The U.S. must not lose the global race to develop deepwater offshore wind technology," Senator Collins emphasized and expressed her joy that Maine leads the whole nation in this endeavor.
Development of offshore wind energy will bring great opportunities for Maine, as it will harness its vast wind resources, create up to 20,000 jobs and lessen the reliance on Middle East oil. The potential return of this project is enormous, Senator Collins said.
Mainers struggle for basic heat during the winter months, said Governor's Energy Office Director Patrick Woodcock. To bring new industries to Maine, the state must have competitive electricity prices and it needs to continue to push offshore wind technology that brings costs down.
Jose Zayas, Director of Wind and Water Program at U.S. Department of Energy, told Mainers that offshore wind is an opportunity to transform the U.S. economy, to bring jobs and a meaningful and impactful way to produce electricity.
Offshore WIND Staff, June 1, 2013; Image: Advanced Structures and Composites Center, University of Maine