South Boats Launches Offshore Wind Farm Crew Transfer Vessel, 'Porth Wen' (UK)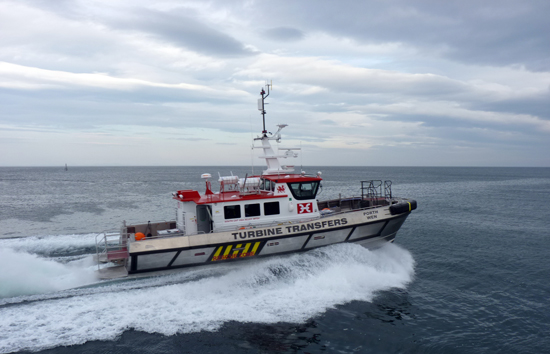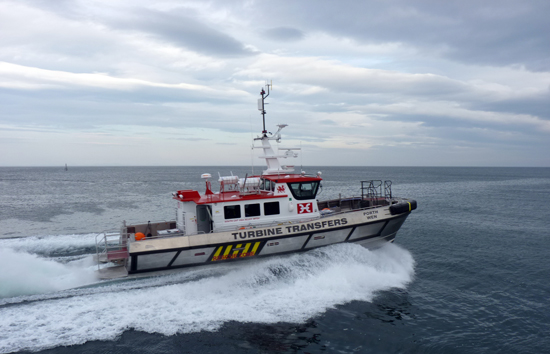 South Boats Special Projects Ltd. announces the launch and commissioning of its 47th offshore wind farm crew transfer vessel, 'Porth Wen'. The vessel is a South Catamaran 16m and is the third of a five boat order from Turbine Transfers Ltd. for the 16m to be delivered.
This vessel compliments the eighteen wind farm vessels already built for Turbine Transfers Ltd. by South Boats. The 'Porth Wen' was built by Buckie Shipyard in Scotland and is the 6th South Catamaran to be built by Buckie for South Boats and Turbine Transfers.
The 'Porth Wen' has an LOA of 16.8m, Beam of 6.3m, Draught of 0.95m and a lightship displacement of 29 tonnes. The vessel is configured with a central wheelhouse providing a forward deck capable of carrying up to 5 tonnes of construction and O&M equipment coupled to a aft deck capable of carrying a 3 tonne 690V 4 star delta generator set for supplying power to the wind turbine generators.
Powered by twin Scania DI16 43M 800mhp diesel engines and coupled to Ultra Dynamics UJ452 water jet units the vessel achieved a sprint speed of 27 knots and is capable of cruising at speeds in excess of 23 knots in departure condition. A sophisticated hydraulics system driven by both Twin Disc gearboxes powers a Palfinger PK4501M fully folding knuckle boom crane forward, 5 bar 30,000 litre per hour fire pump, 1.5 tonne hydraulic capstan, 210 bar 30 litre per minute pressure washer system and 3.5tm3 8 bar fuel transfer system. The integrated system offers full redundancy from two supplies. An ONAN 9kW 230V AC generator set supplies power to the vessels ring main and AC services.
This latest generation vessel has a totally reworked interior arrangement with the entrance door offset to stbd and a full width changing area, hanging area and turbine spares lockers aft. Forward there are six crew seats to port arranged as three rows of two with the forward two rows facing each other with a table between and six crew seats arranged as two rows of three, all with tables forward facing to stbd. A twin screen entertainment system is fitted with TV/DVD and forward looking cameras.
The bridge has a fully integrated Raymarine and Furuno electronic suite comprising twin radars, twin chart plotters, video sounder, fully recording CCTV, low light camera, thermal imaging camera, AIS, satellite compass, twin DSC radio's, load hailer, GPS and auto pilot. The bridge has heated forward screens to eliminate misting. All windows in the vessel are fully double glazed to eliminate condensation to provide the technicians with clear visibility out of the vessel and free standing air intake and air extraction systems for the machinery spaces and high tech anti noise and vibration matting minimise noise and vibration to the passenger saloon areas.
South Boats continues to build 25 wind farm crew transfer vessels per annum and the new generation 16m, 17m, 19m, 24m and 28m designs are now populating the range and those not yet started will come on line over the next few months. All of the new generation vessels feature modular superstructures, integrated systems, options for secondary access systems and new bow fender system. With 5 years experiencing building 47 wind farm vessels for 15 operators, having worked on over 25 projects there is no doubt that South Boats catamarans remain the vessel of industry choice.
[mappress]
Offshore WIND staff, November 18, 2011; Image: southboatsgroup